Summit registration closes Feb. 3 at noon
Survey after survey shows that Coloradans want more resources devoted to walking and biking. This 2014 Colorado Bicycle Summit is about turning these "wants" into actual changes.  If you've already registered, we can't wait to see you on Feb. 10 and 11. If not:
Registration closes at noon on Mon., Feb. 3
Please forward to your friends and colleagues!
Members $110 | Nonmembers $125
When: Feb. 10 & 11, 2014
Where: Embassy Suites in downtown Denver, Colorado State Capitol
More Information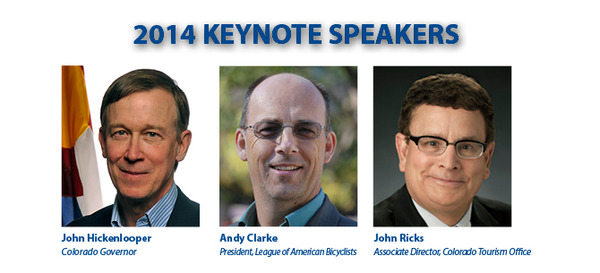 Monday Breakout Sessions
Building More Trails – Their Value and How to Get Them
Jack Placchi – Bureau of Land Management
Rebecca Gleason – Western Transportation Institute (WTI)
Tom Morrisey – Colorado State Parks
Bill Haas – Federal Highway Administration of Colorado
Tools to Advance Biking in Your Community
Dean Bressler
Ryan Kragerud – Bicycle Longmont
Ryan Schutz – The Bike Depot
Getting the 60% Riding and the Influence of Infrastructure
Ted Heyd – Bicycle Colorado
Emily Snyder – Denver Public Works
Anthony Pratt – Alta Planning and Design
Jean Sanson – Steer Davies Gleave
Bike and Ped Counting Programs and the Positive Impacts on Communities
Alex Hyde-Wright – Boulder County Transportation Department
Ken Brubaker – CDOT
Amber Blake – City of Durango
Getting More Women Riding – a Workshop/Brainstorming Session
Dorothy Nichols, moderator – SheBeest
Facilitators with ties to advocacy, social media and the bicycling industry
Get Your Message Out – a Clear Voice in Social and Traditional Media 
Lynn Clark – Bicycle Colorado
Kimmie Greene – Level 3 Communications
Mike Lee – Cactus Communications
Summit Happy Hour
---
Tuesday at the State Capitol
Networking, Breakfast/Coffee and Meet with Representatives
Bicycle Colorado
@BicycleColo
follow
Join us 9/18 in Aurora for a FREE Auto-Friendly Bicyclist course! Learn how to navigate new infrastructure, how to… https://t.co/tZSYKhdt0y
The Latest News
view all
Sep 14, 2018
by

Bicycle Colorado